This is a CMW.News Original.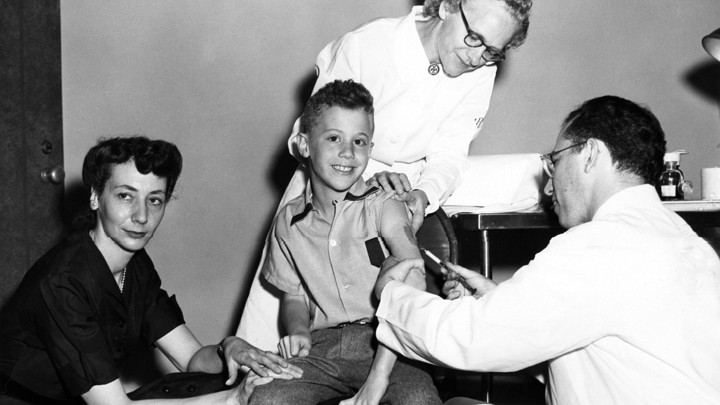 I
f you spend time on Twitter, you've likely seen tweets citing Polio vaccines in support of arguments for COVID injections and mandates. Their message: the Polio vaccine helped beat Polio in the 1950s, so shut up and take the COVID jab to help beat COVID now. But the message only works if you ignore stark differences in how the vaccines were developed, trialed, and used.
Dr. Jonas Salk's Polio vaccine was based on the long-proven technology of inactivated vaccines. His vaccine was initially trialed in 1952 and 1953 with recipients including himself, his wife, his three young sons and 7,000 other children. [At top is a photo showing him vaccinating his oldest son Peter.] From 1954 into 1955 a larger trial was conducted on 1.83 million children.
In contrast, Pfizer's COVID vaccine was the first to be based on mRNA technology, and was trialed for just months on under 50,000 (0.05 million) people. Worse than the Pfizer trial being so underpowered is growing evidence that vaccine adverse events (AE) were deliberately excluded
from
its
results
.
It should therefore be no surprise that the Pfizer vaccine, authorized based on questionable trials, resulted in an unprecedented number of AEs. Thousands of deaths are recorded for the use of Pfizer in the central AE database in each of the US and EU. Because of known underreporting, unrecorded deaths in each of these markets are reasonably expected to be in the tens of thousands if not higher.
The root cause of these deaths is unknown. They may be due to Pfizer's use of never-before-used mRNA vaccine technology. Or they may be due to how bodies injected with the vaccine first produce COVID spike proteins and then attack those spike proteins. Some AEs may be due to the difficulty of transporting and storing the vaccine at ultracold temperatures (originally -90 to -60°C / −130 to −76°F). Or they may be due to problems with
manufacturing
. Regardless of cause, there is no public indication either Pfizer or health bureaucrats are concerned about deaths, let alone that they would stop the vaccine's use even temporarily to prevent further harm while they investigate AEs.
Contrast this to
the response
to AE deaths caused by problems with Salk's Polio vaccine. The immediate background:
Francis presented his [vaccine trial] report in Ann Arbor on April 12, 1955. After an evaluation of the report by a group of virologists, a license for sale of the Salk vaccine was signed by Mrs. Oveta Culp Hobby, the Secretary of Health, Education and Welfare.

The announcement of the success of the field trials led to great demand for the Salk vaccine. By the end of April 1955, around 5 million children had been inoculated with commercially produced Salk vaccine. Several commercial firms (besides Parke Davis and Lilly) manufactured the vaccine on a large scale -- a process which had begun even before the release of the Francis Report.
Problems, response, solution:
Some of the firms had difficulty in safely inactivating the polio virus. At the end of April 1955, a large batch of vaccine manufactured by Cutter Laboratories actually caused polio in 250 cases. The Cutter vaccine was taken off the market, although the general vaccination program continued. An investigation of the incident revealed problems in inactivation of the Mahoney strain of the virus. On the recommendation of John Enders and other virologists, U.S. Surgeon-General Leonard Scheele halted the vaccination program on May 7, 1955. After an in-depth investigation, Dr. Salk and a technical committee of virologists developed more stringent specifications for the manufacture of the vaccine. On May 27, 1955, the Surgeon-General announced that the vaccination program could be resumed.
In 1955, 250 cases caused 10 deaths and led to a rapid response by the vaccine developer, manufacturers and health authorities. This was with a death rate of 2 per million inoculations.
In 2021, Pfizer's death rate is 10 times higher (20 per million) assuming the central AE database in each of the US and EU accurately reflect total deaths, or at least 100 times higher using a reasonable assumption of unreported deaths. How can the lack of any response by Pfizer and authorities, let alone rapid response, be explained?
One explanation is that both Pfizer and heath authorities are
protected from legal liability
That means their financial downside is low while their upside depends only on the number of initial vaccines and subsequent boosters they have the credibility to push onto adults, adolescents and now children.
Another explanation is that vaccine developers and health authorities as well as media are "all in" on COVID vaccines. They have staked their credibility on the vaccines being "safe and effective" as their propaganda repeats ad nauseum. Illustrative of their extreme position is the fact-check
headline
from the Poynter Institute for Media Studies: "There's no evidence that the Pfizer vaccine causes deaths". Is it likely that Poynter doesn't know the meaning of "no evidence"?
But Poynter's "no evidence" position is just as extreme, just as dogmatic, as that of the most senior US health bureaucrat, Anthony Fauci, who continues to claim his bureaucracy didn't fund gain-of-function research at the Wuhan Institute of Virology. Neither can admit what the evidence shows without destroying their credibility. They can't even admit there may be such evidence on gain-of-function and vaccines without jeopardizing their credibility. The same applies to lockdowns, masks, and differences tabled below between Salk's Polio vaccine in the 1950s and Pfizer's COVID vaccine now.


Polio
COVID-19
Vaccine Type
Inactivated
Genetic – mRNA
Earliest Prior Use of Type
18851
No prior use
Vaccine Developed By
Dr. Jonas Salk
Pfizer Inc.2
Funded By
March of Dimes
Pfizer Inc.
Main Trial By
Dr. Thomas Francis
Pfizer Inc.
Initial Trial Start
1952
2020
Main Trial Start
1954
2020
Vaccine First Used
1955
2020
Trial Relative to Earlier Trials
Far more rigorous3 4 5
Far less rigorous6
Reason for Relative Rigor
Design and size7
Duration8
Trial Participants (millions)
1.84
0.05
Recipients in First Year (millions)
309
40010
Infections after vaccination started
Decreased11
Increased12 13
Evidence trial hid adverse events (AE)
No
Yes14 15 16
Developer legal immunity from AE claims
No17
Yes18
Doctors, nurses fear reporting AE
No
Yes
Authorities downplay AE, other vaccine problems
No
Yes
Media censors AE, other vaccine problems
No
Yes
Media financial interest in vaccine
No
Yes19
Bureaucracies financial interest in vaccine
No
Yes20
Bureaucrats take high pay jobs at vaccine developer
No
Yes21
Vaccine approvers connected to vaccine developer
No
Yes22
Vaccine developer has massive profits from vaccine
No
Yes
Vaccine industry lobbying spend >> other industries
No
Yes23
Government enforces vaccine mandates
No
Yes
References
Louis Pasteur's partially inactivated rabies virus. Source.
BioNTech, also involved in development, partnered with Pfizer to create the Pfizer-BioNTech COVID-19 vaccine (Pfizer vaccine).
"Greatest public health experiment in history". Source.
"THE LARGEST and most expensive medical experiment in history ...". Source.
"... at the time the largest medical experiment in history". Source.
Compare to slide 4 of the 2019 presentation by the International Federation of Pharmaceutical Manufacturers & Associations (IFPMA) "THE COMPLEX JOURNEY OF A VACCINE: The Steps Behind Developing a New Vaccine". Source. Note: Pfizer is a full member of IFPMA.
See "Francis Field Trial of Inactivated Poliomyelitis Vaccine: Background and Lessons for Today". Source.
< 1 year vs 9-15 years for Phase I-III Trials per Source at 6 above.
Based on the sum of EU vaccinations plus US vaccinations rounded up to the nearest 100 million to account for non-EU and non-US vaccinations.
Whether you compare infections the year before vaccinations started to those the year after, or compare infections at points in time the year before to infections at points in time the year after, COVID cases have increased for the country that led using Pfizer vaccines, Israel, and in countries that followed it such as the US. Source.
There is a positive relationship between COVID vaccinations and COVID infections at a country level as well as at a US county level i.e. higher vaccinations is correlated with higher infections. Source.
Salk: "I will be personally responsible for the vaccine." Source.
CNBC: "You can't sue Pfizer or Moderna if you have severe Covid vaccine side effects. The government likely won't compensate you for damages either". Source.
Known: advertising, Pfizer sponsoring news programs, paid social media influencers, Big Pharma-linked Publicis Group's key investments in media watchdogs NewsGuard and HealthGuard. Source.